You CAN get teen boys to read. 9 Practical Tips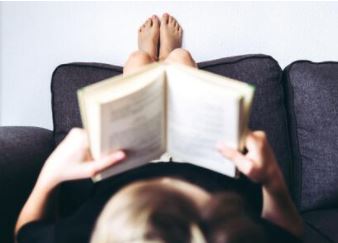 It's a common concern – as boys get older, reading can be seen as work rather than fun.  Teens especially may stop reading altogether.
I was excited to be recently interviewed on ABC Radio Canberra on this issue: How can we get teen boys reading, either again or for the first time?
If you have a reluctant reader, you've probably tried incentives,  threats and listened to less-than-enthusiastic reading aloud when they were younger.  Then when they become teenagers they are busy, with many distractions, phones, technology, sport and new experiences.  But don't give up on serving them books – here are 9 tactics.
1) Explore YA Novels
These novels take on the edgy issues that teens struggle with, from peer pressure and romantic longing to grief and trouble at home or school. Whether they're personally grappling with these issues or seeking thrills via characters, teens gravitate toward subject matter that's relatable.  Click here for the shortlist of 2021 Readings Young Adult Book Prize.
2)  Read the same book as your son (or daughter)
I mentioned this in the radio interview and listeners were really intrigued.  I used this example ~ I'm not a fan of zombies but my 14-year old son and I read Jonathan Mayberry's Rot and Ruin series.  I thoroughly enjoyed the characters and it gave us something to chat about (any excuse to find a way to engage with teen boys!).  Lots of listeners contacted me with requesting ideas for series that they could read with their son.
3)  Merge movies with books
Loads of Hollywood films feature content from teen literature.  Read the novel version first before the movie adaptation comes out.
4)  Hook them with adult books
Find nonfiction titles on subjects that appeal to your teen ~ consider a biography about a famous rapper, music artist, sportsperson or actor.  Check out the nonfiction bestseller lists to see what's setting the reading world alight.  Try funny adult books (by David Sedaris or Tina Fey, for example), horror (Stephen King), mysteries (Agatha Christie), thrillers (James Patterson, John Grisham), fantasy (George R.R. Martin), science fiction (Isaac Asimov), secret service (Carol Leonnig) and sports (Michael Lewis).
5)  Make sure they catch you reading
This is my best advice for parents.  Read at home where your teens can see you.  It's difficult in busy households but it's important to send your teen the message that reading is a pleasure, not a chore.
6) Have reading material available 
Research supports that kids who grow up with books around tend to read more.  Leave texts in the bathroom, car, dining table.  These can include magazines, comic books, graphic books, first books in a popular YA series.  Even short, micro reading is valuable!
7)  Audiobooks are fine
Grab their interest by getting an audiobook to listen to on the way to school or on long trips.  They can download audiobooks to their smartphones ~ the bonus is that they won't risk looking uncool because they will have their earbuds in or will be wearing headphones.
8)  Get graphic
These have grown in popularity and they can be the key to gettings some teens hooked on books.  They cover a huge range of genres – from fantasy and adventure to historical fiction and biographies.  Here are some Graphic Novels picks
9) Give them the gift of reading
Family members struggle to buy gifts for teens so why not suggest a subscription to a magazine? A gift card to your local bookstore?
EXTRA RESOURCES:
Here is an info-packed guide to draw your teen into reading – regardless of their age, ability or interest.  We've made it easy – just print off a list in the category that fits your son!  Use these guides to put your teen son together with the books that they will enjoy.  Each book title contains a description, which means your teen can choose books that appeal to his interest.
(We think these books in these lists contain a perfect combination of information, suspense, action, great characters and engaging storylines.)
Reluctant Male Readers (11+ years)
You know the type: a boy who can read, but would rather not.  Here is a suggestion of exciting, adventurous and boy-centric titles.
Reluctant readers 11+ (Printable)
The Book Haters (11+ years)
This group is tough to crack: they declare that they hate books.  He might like only sports/fishing/gaming mags and thinks that "watching the movie is the same as reading the book".  Here's some titles that could turn the tide.
Dishing up books to your teen
The key to motivating teens to read is to provide them with the reading materials in which they are most interested. The above books are based on reviews, personal experience (I've read quite a few of them) and professional judgement.
TIP:  Have a few books available, so if one doesn't captivate his attention, he can switch to another title.
Check out our blogs for more ideas and tips.
Boys Love LFB – Here's what they have to say!
Get boys reading in the digital age
Why write? Tips for reluctant writers
Brought to you by Tanya Grambower