Boys Don't Read Enough: changing the non-reading mindset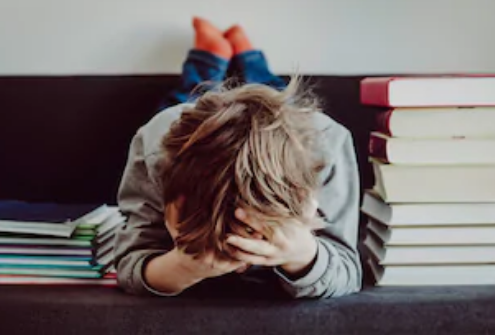 How do we change the non-reading mindset for our boys?  That is,  the state of being able to read, knowing how to read, but intentionally choosing not to read.
Mountains of research show that 75% of 9- to 14-year-old boys self-reported they only sometimes or rarely read for pleasure. In other words, when four boys are left to their own devices, only one will choose to read and the other three won't.
My 20+ years as a literacy educator supports this data, and that's why busting boys' negative attitudes toward literacy has been, and continues to be, my passion and mission.
Boys will read, if given the right material
David Reilly, a psychologist and Ph.D. candidate at Australia's Griffith University, co-authored a recent analysis on gender disparities in reading in the U.S.  He points to the stereotype that liking and excelling at reading is a feminine trait.   He suggested that psychological factors—like girls' tendency to develop self-awareness and relationship skills earlier in life than boys—could play a role in the disparity, too, while also explaining why boys often struggle to cultivate a love of reading.
The fallout from boys not reading
Most often,  girls routinely outstrip boys at reading. In two of the largest studies ever conducted into the reading habits of children in the United Kingdom, Keith Topping (a professor of educational and social research at Scotland's University of Dundee) found that:
boys dedicate less time than girls to processing words

boys are more prone to skipping passages or entire sections and,

boys frequently choose books that are beneath their reading levels.
What can we do – starting today?
Reading for pleasure is, as the OECD (Organization for Economic Cooperation and Development) has found, a habit that can prove essential to performing well in the classroom. 
"Any cognitive skill can be improved with practice," Reilly says. "If girls are reading more outside of school"—if they're doing so out of an intrinsic motivation rather than because they have to—"this provides them with thousands of hours of additional reading over the course of their development."
When making reading selections for boys, do not underestimate the value of books with utility, action, and interest. Utility is important because struggling readers – especially boys – enjoy reading about real things. Utility gives boys a sense of purpose when they read; they are learning about the real world in a way that helps them understand it better. The Guiness Book of World Records is popular with boys of all ages. Action may sound obvious, but is a bit more complicated.  Many boys are impatient with stories that take too long to get off the ground or stories that are designed to convey some big important lesson they may be too young to understand.
  There is nothing more damaging to literacy than the perception that reading is something kids do for someone else; if boys are not encouraged to read what they want, the perception and its damage will   be evident. Interest is what teachers and parents must pay attention to if they want to get boys   reading and keep them reading.  Whether a boy chooses comic books, skateboarding magazines, video game "cheat" books, a how-to guide on zombies or a slang dictionary, their choices should be taken seriously.  
Aim for a variety of kinds of text or books for a variety of purposes. 
And those extra hours spent reading will pay dividends for years to come in the classroom!
Resources for Parents & Teachers
We've saved you some time by sorting book titles into themes so that you can match your male reader to a book.  Here are some titles and resources to help parents and educators:
Recommended reads for 12+ boys
There is nothing wrong with series books. Familiar themes, characters, and settings are comforting to young readers and give them a sense of security while reading. Recommended reads for 12+ boys SERIES.
See here for a list of great kids books that have made into movies.
Want an online program to boost your son's reading ability?
Our passion to engage boys with reading led to developing a unique online resource.  Literacy for Boys is the only program of its kind developed specifically for boys, their needs and how best to appeal to them.  It is aligned with the Australian curriculum and covers the basics of reading comprehension, grammar, spelling and punctuation. Our topics cater for all boys' interests – sport, science, adventure, true-life stories, forensics, tech gadgets, ghost stories, gaming and more.  Our formula for success lies in building confident readers via engaging content.
What our LFB community are saying!
As a parent I love this site.  I will continue to purchase this for all my boys.  It's the best money we have spent!  (Bec)
I have been a member of Literacy for Boys since 2017 and the cost of the subscriptions is the best money that our school spends on literacy resources each year.  I am amazed at how the children engage with the program and how frequently new topics are added – the kids love it!  LFB is a lifesaver with the curriculum.  Thankyou for helping me to make literacy fun and engaging. (Camilla)
I LOVE this resource; it saves me a lot of time in supporting teachers who have children with learning difficulties. Well done!  (Samantha)
Your website is wonderful.  I am so glad that I discovered it.  I subscribed today for our two boys and am so happy that I did. (Amelia)
We are offering a FREE 2 week trial of Literacy for Boys. Try it for yourself and see how it works for your kids (8 years to 15 years).  Contact us today: info@literacyforboys.com.au
Check out our blogs for more ideas and tips.
Noticed gaps in your child's learning since remote learning? We offer the solution
How LFB is gaining real results in improving literacy
Boys Love LFB – Here's what they have to say!
Get boys reading in the digital age
Why write? Tips for reluctant writers
Brought to you by Tanya Grambower