How do you ensure literacy isn't compromised by screen time?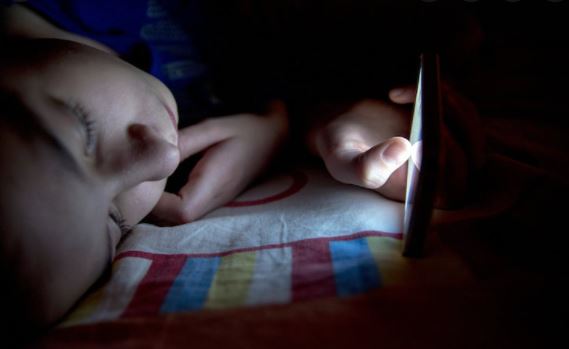 There is much debate about children and technology, and it sparks hot discussion around the world.  Research keeps surfacing about technology's overuse and its impact on learning yet it offers great benefits too.  Confused? How much is too much? Let's look at some research, feedback from educators and how tech can be used in a balanced way to enhance learning and prepare our kids for the future.
The positives
Technology is an awesome, valuable tool and children need to learn digital skills.  But how much is too much?  What are the signs of overuse?  How can we make sure that our kids aren't at risk of its negative impacts on learning?
Of course, I have to declare that I have designed two online learning programs that use technology. I use technology to present great, engaging content to students so that they can improve their literacy skills. On the flip side, I'm a huge advocate of getting books into our kids' hands and encouraging adults to model reading.  But telling kids to pack away the screens is going to be met with resistance.  So let's look at some behaviours to check on your child's digital dependence.  An answer of 'yes' to any of the below questions should be a red flag.
Would your child choose a device over social activity?
Does your child appear to have a slouched posture?
Do you think that your child likes playing and watching video games on devices and tv rather than playing outside?
Does your child spend more time on a keyboard/controller/device where they are swiping, pushing, scrolling and tapping than they do writing, drawing and creating with pens and paper?
Does your child get angry when asked to take a break from a screen or device?
What amount of time is suggested?
Australia's Department of Health and safety have guidelines based on extensive research and consultation with health professionals.  Download it here
This is just a guide and there is no magic number.  You will have some days where you think your child fits into the appropriate time online and other days where it seems to have vastly gone over.  Remember that it's all about balance.  
The first generation of 'digi kids' are struggling with literacy
The Growing up Digital Australia study found some alarming statistics.  One thousand Australian teachers and principals were surveyed and key findings are below:
We delved deeply into how literacy is affected by technology in a past article Why too many Australians are Struggling with Literacy
Want some simple, cheap and easy solutions?
Managing technology with kids is tough but we offer some tips to ensure that your child's literacy attainment is not a trade-off for screen time.
Make sure that your kids read real books – reading a book is better than a tablet.  It gives their eyes a break from blue screens and will boost their reading skills,  comprehension and vocabulary.
Use the library!  Books are free, you can provide a wide selection of choices for your children.
Encourage pens, pencils, highlighters, large blank pieces of paper and sticky notes in their note-taking.  Leave the computer for the final draft and creating presentations. Remember that writing and reading are the combo for literacy gains.
Ensure that there is unstructured play in the real world as often as possible.
With young children, share the digital experience with them and talk about it together.
I'm sure that most of us are guilty of this one but try to encourage your children to use their brain first for answers before seeking Google or Siri's help.
Use a timer to get children up every 20 minutes when on computers and devices.  This also helps with digital eye strain.
Turn off the tv when not in use.  It's another distraction and does not help concentration.
Ensure that you have designated screen-free slots.  These will depend on various ages and families but consider no screens at the dinner table, before school, during study time (if they don't need their computer), during rest time and before bed.
Aim for high-quality apps, games and programs.
Sleep hygiene is critical.  Our recent article on this topic resonated with many of my fellow teachers and parents ~ Top tips for getting a good night's sleep
Lastly, it's inevitable that this generation will be living and breathing technology from an early age.  They will have a presence online and engage with every social-media platform.  Our advice is that not all digital encounters, games and apps are equal.  Ensure that their screen time counts by choosing worthwhile, quality experiences.
---
We are incredibly passionate about improving kids' literacy – research consistently supports the fact that confident readers achieve more highly than disengaged learners.  If you are wanting a resource that can boost your child's literacy leading into 2022, please visit Literacy for Boys or Literacy for Kids
Check out our recent appearance on Channel 7 News ~
Parents ~ sign up for a free 30-day trial and improve your son's literacy for the upcoming school year!  
As an educator, do you want more from your literacy program?  Contact us for a 30-day free trial in your school or classroom.  Sign up for our newsletter and get FREE Comprehension Worksheets for Years 3 to 9.

Check out our blogs for more ideas and tips.
Steps to Successfully Support Disengaged Learners
See us featured in The Educator Australia magazine
Research confirms that early reading boosts literacy
Boys Love LFB – Here's what they have to say!
Get boys reading in the digital age
Why write? Tips for reluctant writers
Brought to you by Tanya Grambower