Literacy Toolkit 2022: Some fresh ideas to inspire your students to read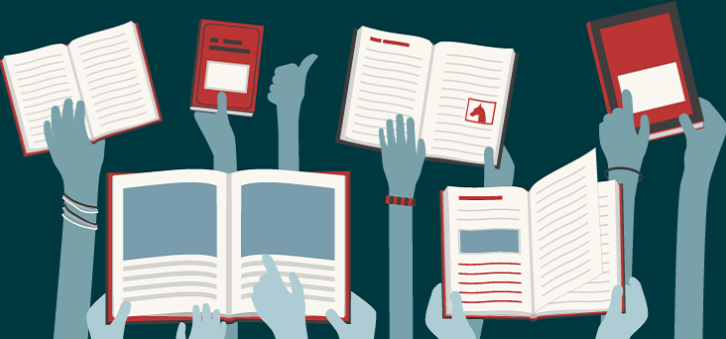 What if every one of your students loved reading?  It is a teacher's most common worry: How do I inspire my students to read often and read well? 
"The path of a reader is not a runway but more a hack through a forest, with individual twists and turns, entanglements and moments of surprise." (John Holden, literacy author, 2004)
As a teacher and tutor with 20+ years' experience (and mum of three: one an avid reader, one who reads occasionally and one who rarely reads!), it has always been my belief that individuals, especially boys, become better readers when they are engaged and supported by a culture that values reading.  It's not easy but worth the effort.
If you are looking to add an invigorating splash to your literacy program here are some strategies that you can start tomorrow:
1)  Look at students' attitudes, beliefs and perceptions related to their own reading
Does a student see themselves as a 'reader'?  Negative attitudes toward reading can be a huge roadblock in a classroom.
Use a survey as a tool to get to know your students.  Download our LFB Reading Survey printable or you might try survey monkey.  Another teacher used video to record 'Reading Confessionals' – a format popularised by reality tv – and involved students speaking "privately" in front of a camera about themselves as readers.  She set up a tripod in a corner of the classroom for filming.  Using the iMovie app, you might like to ask 3 or 4 students to snip the clips into a "Reading Confessional Movie".  Kids love watching themselves on the big screen!  An added bonus is that it contributes to your class's collective culture and identity as readers.  I also like this idea for the students who become anxious at public speaking in front of the whole class.
2)  Turn Feedback into Action: find your "Launching Point"
Literacy gains will be a combination of persistence, practice and interest.  Ideally, we want students to take ownership of their reading – now and into the future.  From the surveys/interviews, you should have a grasp of the experiences and activities that motivate the student's interest and what they enjoy.  Now you have a "Launching Point" to encourage them into wanting to read.
Different students respond to different reward systems.  Some kids just aren't motivated by competing against others.  So, I've compiled a range of ideas, initiatives and projects that might appeal to a variety of students in order to motivate them to read:
1. Selfie Stories
This should appeal to the current selfie generation.  Children can take pictures of themselves reading in unusual places that can be displayed on a board.  Places such as in tractors, on holiday trips, mum/dad's work, sporting venues, in a tree – this might add some fun factor for the reluctant reader.
2. Twitter #connect
In the age of social media, this might be an idea to encourage older students.  You might be keen to start
a classroom group twitter account (see step by step guide here) or create a wall display and post book comments (this can be effective if pupils comment regularly during the reading of the book).
3.  All in the Family
Where do you read at home? The purpose of this activity is to bring the students' home culture into the classroom to build community.  This project involves asking parents to send a picture via email of their family's bookshelf, pile of books or a bedroom shelf of books.  Students get a glimpse into their classmates' homes.
3.  Classroom library
Providing a variety of reading material is imperative.  Aside from novels, comics, graphic novels etc consider adding:
Tourism brochures
Newspapers
Magazines e.g. sports, fishing, 4WD, tech, gardening, National Geographic for Kids, animals etc (a large range can be borrowed from the council library – for free) ** Council librarians are also terrific sources of support and information.  A teacher doesn't need to be solo when it comes to promoting reading and gathering resources.
Check your shelves at home – do you have any books that you can add?  After all, if you've read the book you can recommend it to students.
4.  Responding to reading
After reading a text/book you might find success with some of these:
Younger boys can find and write down 5 new words they learned from reading one of the books
What are some questions you would ask your favourite character if he/she came to dinner?
Make a bookmark
Draw the setting of the book
Reinterpret the illustrations
Consider getting the students to write reviews on Goodreads or Amazon
Write postcards/letters to the author or main character
Book Bingo (great for encouraging kids to read more broadly): Create a bingo chart with things that might appear in a book (e.g. Character fights a dragon; character travels to another country; someone speaks in a different language). Think of a book-related reward for students who reach bingo or check off all the boxes on their sheet.
5.  Struggling Readers
Many years ago, I was tutoring a gorgeous 12-year-old boy who was a reluctant reader and had little confidence when he saw a passage.  When I'd asked him what he'd done at school that day, he said that he had had a comprehension test on the Past Queens and Kings of England. (There is no teacher blame here – it's hard finding boy-centric resources!)  This topic was far removed from his interest and knowledge.  This was my 'aha' moment and led to the creation of Literacy for Boys – writing on topics that boys like and will engage with.  I had great success with my students when I wrote comprehension tasks based on rugby, cricket, lego, science, gaming.  Draw them into reading using topics that appeal to them.  Grammar, punctuation and spelling aren't earth shakers for kids (yet they are so important!) so that's why we designed these activities around the above topics (completing a grammar/punctuation/spelling activity about a ghost story/extreme sport/soccer isn't too unappealing!).
Quite often the reading materials do not appeal to these readers, their interests, or strengths (and may not have been at an appropriate level for them).  As a result, students end up resisting further interactions with books based on their negative past experiences, which leads to fewer literacy skills, which then further intimidates these students from wanting to engage in reading. Hopefully, some of the strategies above will help you know what books would be best for each student.
Our goal is to put books in kids' hands and spark a genuine interest in reading.  We want our students to value literacy for multiple reasons, including academic, personal, and for pleasure.  First and foremost, the best way to build reading skills over time is lots of reading.
Check out our blogs for more ideas and tips.
8 Ways to Improve your Child's Reading Level
Boys Love LFB – Here's what they have to say!
Get boys reading in the digital age
Why write? Tips for reluctant writers
Brought to you by Tanya Grambower