Benefits of storytelling and how it can build resilience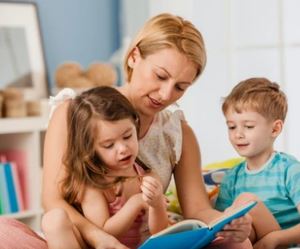 An article released today by Education Review further supports our view on the benefits of reading out loud to our children.
Researchers from the University of Southern Australia collected data from over 60 000 children aged between 5 and 6 years, focussing on those who had suffered neglect.  The study found that they were developmentally behind their peers when starting kindergarten.
The Impact of Literacy at School
The flow-on effect is that it places increased pressure on teachers and early childhood educators to intervene. There is no denying the impact that literacy has on almost every aspect of life. Children who struggle with reading and writing run the risk of falling behind in other subjects as well. 
When students struggle with reading comprehension, they often find themselves struggling in other areas of their education. 
"Students who have developed strong reading skills perform better in the classroom and have a healthier self-image.  As a reading specialist, I have seen how literacy skills can make a difference between a student falling behind and excelling," says Tanya.
As a teacher and tutor, Tanya has seen firsthand how poor reading ability can directly affect a student's social well-being.  "An inability to keep pace with their fellow students can lead to feelings of inferiority and damaged confidence.  Boys are particularly reluctant to ask for help in front of their peers, which can lead to a downward spiral in their academic performance."
Parents, teachers and reading specialists can have a monumental effect on the trajectory of a student's life. Engaging with books and regular reading can bolster confidence, improve grades and pave the way for their success in their future careers.
Click here to read our interview in The Educator magazine on How Schools Can Make Literacy Learning Fun for Students
We are incredibly passionate about improving kids' literacy – research consistently supports the fact that confident readers achieve more highly than disengaged learners.  If you are wanting a resource that can boost your child's literacy leading into 2022, please visit Literacy for Boys or Literacy for Kids
Check out our recent appearance on Channel 7 News ~
If you'd like to hear more about how reading aloud can build student resilience, take a listen to UniSA Professor Leonie Segal's interview:
Parents ~ sign up for a free 30-day trial and improve your child's literacy for the 2022 school year!  
As an educator, do you want more from your literacy program?  Contact us for a 30-day free trial in your school or classroom.  Sign up for our newsletter and get FREE Comprehension Worksheets for Years 3 to 9.

Check out our blogs for more ideas and tips.
Steps to Successfully Support Disengaged Learners
See us featured in The Educator Australia magazine
Research confirms that early reading boosts literacy
Boys Love LFB – Here's what they have to say!
Get boys reading in the digital age
Why write? Tips for reluctant writers
Brought to you by Tanya Grambower