How to Help Boys and Teens with Improving their Reading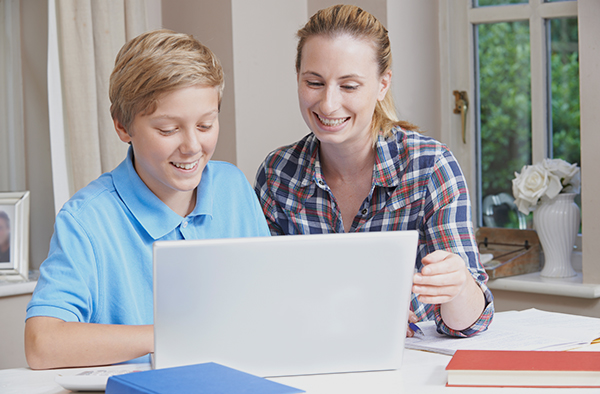 No matter how prepared you may have felt at the start of 2020,  there's no doubt this year was nothing like you expected. The COVID-19 pandemic brought with it new parenting and educational challenges for all of us. 
Schools and parents came to us with questions about virtual, at-home learning and literacy programs for the classroom and we supported more than a thousand students with their literacy in this trying year. 
Perhaps your son's end of year report card was less than stellar?  Read on to see what advice resonated with parents like you and how we can assist with your son's literacy going forward into 2021. 
The importance of strong literacy skills
In the classroom, reading is king; it is essential for academic success.  Teachers, witnessing the gap between good and poor readers widening, may wonder what they or these children might be doing wrong. Parents, knowing that reading problems have consequences all across development including into adult life, question themselves, feeling alternately guilty and angry.
Why kids struggle with reading comprehension
Reading comprehension has always received a bad rap for being the subject kids struggle with the most.  Helping boys with comprehension skills is paramount – after all, these skills are used in every subject (yes, even PE requires literacy skills for its assessment component!).
Comprehension can also be a challenge to teach! If a teacher moves too slowly, some students will get bored and check out. If a teacher moves too quickly, other students can get overwhelmed with the content and give up. In a traditional classroom, there is a wide range of reading abilities.  Too often boys become disengaged and their results drop.
What can parents do to help their children?
If your son isn't achieving strong literacy results, the best approach is to take immediate action. Ninety-five percent of poor readers can be brought up to grade-level if they receive effective help early. The longer you wait to get help for a child with reading difficulties, the harder it will be for that child to catch up.
Literacy specialist and LFB Founder Tanya Grambower urges parents to trust their intuition, "I have listened to parent after parent tell me about feeling there was a problem earlier on, yet they were persuaded to discount their intuition and just wait and see. Later, when they learnt time is of the essence in developing reading skills, the parents regretted the lost months or years."
How can Literacy for Boys help?
Literacy for Boys is the only online program in the world that is targeted specifically at boys and how they learn. We developed material that boys love – this is our secret to achieving outstanding literacy results. Worried that it's too late for your teenager?  Don't be – our program caters for boys up to 15 years (& it's been a huge hit in high schools this year!).  We improve their comprehension, spelling, grammar and punctuation – all the literacy areas are covered!
Other ideas:
While there isn't a quick-fix solution, here are some suggestions:
Encourage boys to read what they want. It may be better for them to read a 19th-century novel than a sports magazine, but reading the magazine is a lot better than reading nothing. And reading anything encourages the habit of reading.
Boys may need more encouragement than girls to read. This can come from parents reading to them, from school libraries or book clubs, or from teachers. Some effective classroom practices include asking students what a text means, asking their opinion of it, and helping them relate it to their own lives.
During school terms, children can play some video games – but only after homework, and not late at night. (we leave gaming until the weekend in our household)
Be wary of punishing boys for bad grades or behaviour. It could simply "further alienate" them from school. 
Find learning methods that appeal to boys. The Australian state of Victoria does this with its "Boys, Blokes, Books & Bytes" programme, which, says the OECD, "involves adult men as positive role models and reading partners".
Value qualities that are common among boys, such as risk-taking.

Francesca Borgonovi (an author for OECD reports)

 says, "Risk-taking is valued in labour markets. It allows boys to excel in some areas." Introducing these qualities into schoolwork would help girls to acquire them, and make boys happier.
Success stories…..
"Literacy for Boys has totally engaged my son. The rewards built into the program keep him motivated and wanting to achieve more. Since he started using LFB we have noticed he is reading more and his spelling has improved."                                                                                                                                                                                 (Tara)
"My child just loves this program. We have spent money on a lot of other programs but he will use them for a little while and then loses interest. Now he begs us to stay up an extra hour at night so he can complete one more topic and climb up the Leaderboard."                                                                                                                            (Michelle)
"Thankyou!  Luca has blown me away with his confidence and commitment to the program. The ladder is an amazing tool and from the moment we found it, he was determined to progress up that ladder. He is now bringing his confidence across to maths as well and we are just in such a lovely place with his schooling at the moment and the changes are credited to your program. Thank you so much Tanya!"                                                    (Joanne)                                                                                                                                          
To learn more about improving your son's literacy, contact us today info@literacyforboys.com.au. It's fun, engaging and gets results. 
We're here for you!
With new subscriptions, we are offering a FREE Spelling Assessment until February 2021.
Check out our blogs for more ideas and tips.
Boys Love LFB – Here's what they have to say!
Get boys reading in the digital age
Why write? Tips for reluctant writers
Brought to you by Tanya Grambower