Literacy for Boys: NEW topics to engage your kids in literacy!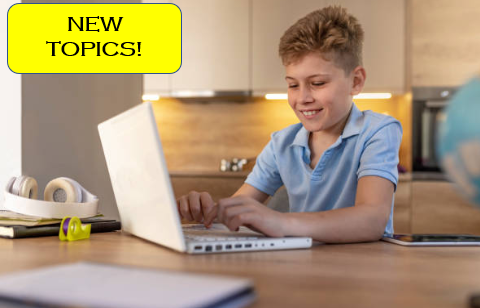 The internet is the defining technology for literacy and learning in the 21st century.  Approximately 4.5 billion individuals use the Internet (
Internet World Stats, 2020
).  Never in the history of civilisation have we seen a new technology adopted by so many, in so many different countries, is such a short time.
So why not make online learning fun?  LFB is an exciting literacy program for primary and secondary students, with hundreds of texts to improve reading fluency plus spelling, grammar and punctuation activities.  Our staff are currently uploading NEW, high-interest topics to keep kids engaged in literacy. 
New to LFB?
For new LFB members, you can explore dozens of themes in each level!  Read and learn about disgusting animals, Lego, zombies, gaming, adventure, famous warriors and nearly every sport is covered. We cater to kids' interests in science, sport, history, real-life (and fictional) adventures, haunted stories, secret agents… our list continues into the hundreds.  If you'd like more information about a particular level/age group please send us an email at info@literacyforboys.com.au and we'd happy to answer any questions. 
For our current boys and girls who are already members….
Check LFB regularly for new topics!  Here is a glimpse of what is coming:
reviewing the X-box game: Sea of Thieves
Strange Spiders (did you know that a guy employed spiders as bodyguards?!)
Science topics such as: Velcro, our Skeleton, the Human Eye, How does Anaesthetic work? …..and more.
Missing your sport?  Strap yourself in for Sport Showdown (all ages).  Read about Megan Schutt (Australian cricket fast bowler), NRL Star Players, Rugby's Kalyn Ponga….plus more.
Racing motorbikes (older students)- read about this young legend called Remy who raced internationally at only 12 years old, has had nail biting crashes and is taking the world by storm.  Want to know why road bikes have such smooth tyres?  We have the answers.
Surviving River Rapids (older readers) – imagine if your

canoe suddenly surged out into the open where a torrent of water formed a field of rapids?  This tale is more nerve-wracking than the scariest ride at a theme park!
Do you have an idea for a great topic?  Send us a message at info@literacyforboys.com.au
See what parents and boys have to say….
"Since Caleb has started LFB there are no more tears for either of us.  For the first time, he is remembering his spelling words –  he scores 100% every time that I verbally test him.  He now has so much confidence just from the short time we have been doing your program that he now asks straight away if he doesn't understand something and we go over it again until he does understand it. I am just so excited.   THANKYOU THANKYOU THANKYOU! LFB is really making MASSIVE POSITIVE changes to our son – thank you so much for making the program accessible. It has changed our lives."                                                                                    (Michelle, mother of Caleb)
"I really enjoy the videos and the pictures.  I like the questions and the challenges."  (Deacon, class 4A)
"The videos make me more interested in reading.  I really like the spelling and the questions." (Fletcher, aged 9)
"The program is online and information is current and suited predominantly for boys' interests.  My son is very excited to use it at home and in class."                               (Samantha, mother of Andreas)
"This program is full of fun and interesting topics that have really grabbed my son's attention and make him want to do the activities. Highly recommend it."                                 (Kate, mother of Alex)
Check out our blogs for more ideas and tips.
How LFB is gaining real results in improving literacy
Boys Love LFB – Here's what they have to say!
Get boys reading in the digital age
Why write? Tips for reluctant writers
Brought to you by Tanya Grambower